You are here:
Home
1
/
Upcoming Offerings
2
/
HUM: A Weekend of Song, Connection & Regeneration November 19-21,...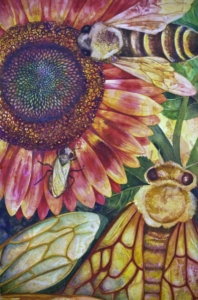 This weekend is an invitation to embody the courage to be an active participant in the Great Turning through song, active awareness, connection and regenerative practices.
During this intimate in-person weekend we engage the powerful complimentary tools of singing, permaculture for earth and self-healing, and the Work the Reconnects. Singing has the power to restore our joy in being alive right now and encourages us to fully feel, share, and move through the pain that we all experience as sentient beings on a planet in crisis. Permaculture and personal ecology support us to deeply see and understand our planet, giving us the capacity to regenerate her and ourselves with creativity and hope. In conjunction with The Work that Reconnects (WTR), an open-source body of work rooted in the teachings and experiential methods of Joanna Macy, we create a space of trust and vulnerability, strengthen our networks of support in the natural world, and deepen our connections to each other while cultivating courage for the times ahead. Together we will explore creative and experiential exercises, group song, storytelling and nature connection for a unique weekend of positive vibration, resonance, nature and community!
Join us from 6 pm Friday evening to 4 pm Sunday afternoon in beautiful Aptos, just south of Santa Cruz California in an oak-shaded outdoor classroom situated amongst gardens, orchards and wildlands. Camping,  cooking facilities, and hot water are available onsite.
Tuition is sliding scale $195-$250 which includes optional camping, and support materials. Tickets are available on Eventbrite; you will be asked to choose your amount in the Sliding Scale Donation area. Scholarships are also available. If you have questions or would like to send a check, please contact vitalcyclesinfo@gmail.com.